About Us
We at Jay Chamunda Industries have achieved exemplary heights in the Indian industry through our work of professionalism, progression and perfection. Since 2005, we have been responsibly maintaining reliable accessibility for the industries as well as individuals to avail superior grade of material handling products at cost-friendly prices. The name of our enterprise has also been counted amongst the leading manufacturers, exporters and wholesalers in the field. The widely demanded product range of ours contains Guide Roller, Conveyor Belt, Drum Pulley, Steel Pipe, Helical Gear Box, MS Idler Frame, Round Conveyor Roller, Impact Conveyor Idler and more items. Through our technologically advanced work, we have been continuously presenting products with better functionality, durability and more quality features. Along with this, we execute job work for customers in cement, paper, power plant, mines, fertilizers, government department, semi government department and more areas.
Our Vision & Mission
We envision to set new benchmarks for quality of material handling products from time to time through our innovative & advanced production techniques. Along with this, our mission is to become the leading preference of customers in the domain by constantly providing them value for money products and services.
Client Satisfaction
Every step taken by us is well-measured in the direction of providing complete satisfaction to the clients associated with us. For them, we are continuously bringing the most exciting and cost saving deals that can potentially surpass all their set expectations.
Quality Assurance
All the items designed & manufactured at our firm including Impact Conveyor Idler, Round Conveyor Roller, Steel Pipe, MS Idler Frame, Helical Gear Box, Drum Pulley, Conveyor Belt and others are thoroughly evaluated and quality assured as per the latest industrial standards. Ultimately, we want to help customers in saving enormous time and energy in material handling.
Our Team
We are a team of growth-oriented professionals who keep learning and progressing in their respective fields with time. In our team, we have technically trained experts who handle all the processes of production, quality assurance, marketing, management more fluently & effectively.
Why Us?
We are the perfect company for customers who seek for availing world class products at reasonable prices. Our firm has facilities to meet any of the urgent or special requirement of customers within the stipulated time. And, we keep ourselves well prepared to serve our customers efficiently in times of need.
Our Clientele
Through our continued supply of top grade Conveyor Belt, MS Idler Frame, Steel Pipe, Drum Pulley, Helical Gear Box, Impact Conveyor Idler and other products, we have established a vast clientele in the markets nationwide which extends with names like:
Binani Cement
Sanghi Cement
Birla Ultra Cement
Balajee Stone Crusher
G R Infra Project Pvt. Lmt.
Saurasth Cement Lmt.
Puspa Stone Crusher
N.M. Dubhas Stone And Lime Ltd.
Surya Mineral
Raj Narayan Partap Narayan Rolling Mill.
Infrastructure & R&D
At Ahmedabad, we have our ultramodern infrastructural set up which we consider as one of the main advantages of our company. It is equipped with sound machinery and resources for the non-stop production of products. We also have Research & Development facilities where our experts work tirelessly to innovate newer-better products with time.
Projects Undertaken
Currently, our firm is involved in projects for:
Crusher Plant
Sugar Plant
Cement Plant
Ceramic Plant
Lignite Plant
Solvent Plant
Salt Plant
Coal Handling Plant
Bulk Material
Fertilizer Handling and Bagging Plants
Foundry Sand Screening and Handling Plants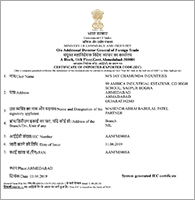 Read More